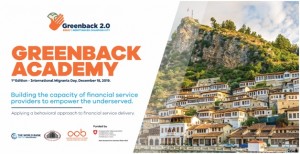 On December 18, 2019 the World Bank in cooperation with the Bank of Albania (BoA) and the Albanian Association of Banks (AAB) will jointly launch the Greenback Academy in Albania. This initiative marks the beginning of the capacity building component of Project Greenback, implemented by the World Bank in Albania in the context of the Remittances and Payments Program funded by the Swiss Secretariat of Economic Affairs (SECO).
The first workshop will seek to build the capacities of the financial service providers (banks, microfinance institutions, money transfer operations, e-money operators, etc.) to better address the needs of the underserved segments, by applying a behavioral approach to the delivery of financial services. Driven by the belief that to best serve clients you have to think like them, the first workshop will bring together client-facing staff members from all financial institutions in Berat.
This session will mark the beginning of this one of a kind initiative, which ultimately aims to bridge information gaps between the demand (senders and receivers) and the supply side. Considering financial education, a two-way street and an ongoing learning process, engaging financial service providers in the process is very important for shaping the financial behaviors in the long term. The Greenback experience on the ground has indicated that financial service providers are a key source of information for receivers, who then pass on the information to the senders. The lessons learned from the first edition will be applied to a standardized training module that the World Bank is preparing for this purpose. AAB and BoA will then streamline this module into existing training programs for every financial institution in Albania.