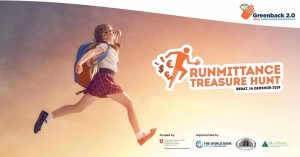 In Berat on June 16th The World Bank together with Bank of Albania organized the Greenback Runmittance Treasure Hunt in occasion of International Day of Family Remittances.
The activity was organized in the context of project Greenback 2.0, the financial education component of the Remittances and Payments Program, implemented by the World Bank in partnership with Bank of Albania and funded by the Swiss Secretariat of Economic Affairs (SECO) and implemented by JA (Junior Achievement) of Albania.
The event observed the International Remittance Day, recognizing their importance for the Albanian economy. In doing so, the World Bank aimed to raise awareness around efficient and inclusive financial services as a key enabler of sustainable development. 
The event was a fun and engaging exercise for young people and an effort to bring individuals closer to financial services institutions.
Around 200 high school students despite the hot summer participated in the treasure hunt.