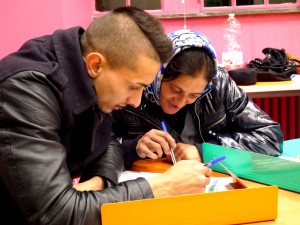 The project "Risparmiare in casa" (Saving at home), carried out by the Bucovina association and funded by the Challenge Fund of The World Bank as a part of Project Greenback 2.0, came to an end.
"Risparmiare in casa" was a transnational educational project about savings, with a specific focus on remittances.
Twenty Romanian Roma families living in Turin, Italy and their relatives living in Oravita, Romania were involved in training sessions on financial education and remittances.
Participants in Turin received useful information about how to save money in their daily life (household finance, family budget) and how to make the right choice when sending money home.
In Oravita, the course allowed participants to better understand the difficulties related to the migration process, the importance of financial inclusion, and the good management of remittances.
--
Si è da poco concluso "Risparmiare in casa", progetto dell'associazione italo-romena Bucovina e finanziato  dal bando Challenge Fund di Banca Mondiale nell'ambito del Progetto Greenback 2.0.
"Risparmiare in casa" è stato un progetto transnazionale di educazione al risparmio, con un focus specifico sul tema delle rimesse.
La formazione è stata somministrata a venti capi famiglia romeni di etnia rom a Torino, dove attualmente risiedono, e ai loro parenti a Oravita, Romania.
A Torino la formazione ha offerto ai partecipanti gli strumenti necessari per capire come risparmiare nella vita quotidiana (economia domestica) e come mandare i soldi a casa nel modo più adatto alle loro esigenze. Il corso svolto a Oravita ha invece permesso ai partecipanti di comprendere meglio le difficoltà legate al processo migratorio, l'importanza di una maggiore inclusione finanziaria sul proprio territorio e la "buona gestione" delle rimesse.