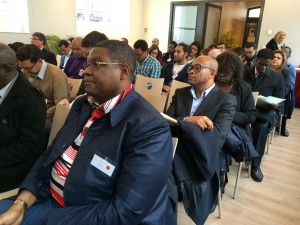 More than 60 entities from different horizons participated to the launch event of Project Greenback 2.0 in Montreuil on 28 October 2014: migrants associations, entities working with migrants (NGOs, public services, etc), remittance service providers, researchers, officials from the City of Montreuil and the Ministry of Foreign affairs and international development.
Participants highly appreciated this opportunity to get together and share their experiences on remittances on both sides of the market: providers and users. Discussions focused on remittance practices in Montreuil, the needs of migrant communities, and how best they can be met. Participants contributed very actively to the discussions and made the workshops a success… and called for opportunities to meet again.
Participants also had the opportunity to learn about a survey from the World Bank in Montreuil, undertaken by DIAL from the French Institute of Research for Development, which focuses on remittance practices from 3 Communities in Montreuil: Malians, Ivoirians, and Algerians. The survey confirmed that Montreuil is a good showcase for the development of Greenback 2.0, taking into account the importance of remittance flows  there, their role for the country of origin of senders and the gaps identified with regard to the transparency of their costs.
The World Bank, the French Foreign Ministry of Foreign Affairs and International Development and the City of Montreuil, the co-organizers of the event, will pursue their efforts to promote the objective of Project Greenback 2.0 and facilitate remittances and will continue to organize activities in Montreuil.
--
Salle comble pour Greenback 2.0 à Montreuil!
Plus de 60 participants de différents horizons ont participé au lancement du projet Greenback 2.0 à Montreuil le 28 Octobre 2014: associations de migrants, entités travaillant avec les migrants (ONG, services publics, etc.), prestataires de services de transfert, chercheurs, représentants de la Ville de Montreuil et du Ministère des Affaires étrangères et du Développement international.
Les participants ont hautement apprécié cette occasion de se réunir et de partager leurs expériences sur les envois d'argent des deux côtés du marché : fournisseurs et utilisateurs. Les échanges ont porté sur les pratiques de transfert d'argent à Montreuil, les besoins des groupes de migrants, et les meilleurs moyens à mettre en œuvre pour les satisfaire. Les participants ont activement contribué aux discussions, au succès des ateliers ... et ont appelé à des occasions de se rencontrer de nouveau.
Le public présent a également eu l'occasion d'en apprendre davantage sur une étude de la Banque mondiale, réalisée à Montreuil par DIAL de l'Institut Français de Recherche pour le Développement, qui met l'accent sur les pratiques de transfert d'argent de 3 groupes à Montreuil: les Maliens, les Ivoiriens et les Algériens. L'enquête a confirmé que Montreuil est une bonne vitrine pour le développement de Greenback 2.0, en tenant compte de l'importance des flux d'envois d'argent qui y sont effectués, leur rôle pour le pays d'origine des expéditeurs et les lacunes identifiées en ce qui concerne la transparence de leurs coûts.
La Banque Mondiale, le Ministère français des Affaires étrangères et du Développement international et la Ville de Montreuil, co-organisateurs de l'événement, poursuivront leurs efforts pour promouvoir l'objectif général du projet Greenback 2.0 et faciliter les envois d'argent, et continueront à organiser des activités à Montreuil.